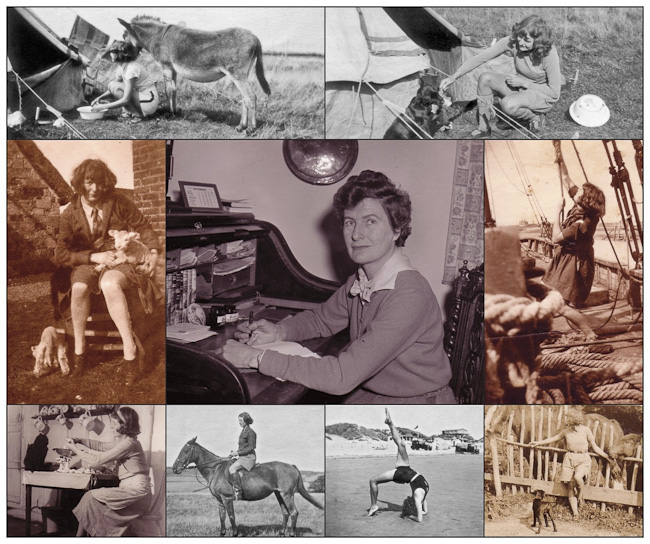 Monica Edwards
Monica Edwards (née Monica le Doux Newton; 8 November 1912 – 18 January 1998) was an English children's writer of the mid-twentieth century best known for her Romney Marsh and Punchbowl Farm series of children's novels.

She was born in Belper, Derbyshire on 8 November 1912, the third of four children born to the Reverend Harry and Beryl Newton. The family moved to Wakefield, Yorkshire in 1919. As well as being a vicar, Harry Newton was a diocesan exorcist and often took his children with him when performing exorcisms. In 1927 the family moved to Rye Harbour in Romney Marsh, Sussex where Harry Newton remained as vicar until 1936. The young Monica Newton received a fragmentary formal education: she is known to have attended Wakefield Girls' High School between September 1920 and July 1921 and when the family were living at Rye Harbour she was sent to St Brandon's School, Bristol where she remained for just three months in 1928 before returning to Sussex. She received no further formal education.

In November 1928 Edwards witnessed the capsizing of the supposedly unsinkable Mary Stanford lifeboat in Rye Bay with the loss of all aboard.The unprecedented mass funeral, which was attended by representatives of King George V, the Government and the Armed Services, was conducted by her father, the Reverend Harry Newton. Monica knew all seventeen crew-members personally but was especially close to Charlie Southerden. In a letter to a school friend in January 1930 she described Charlie, who was six years older than she was, as her "boyfriend" although the relationship was not public knowledge because of the difference in their age and social class. Much later she wrote a fictional account of the lifeboat disaster in her children's novel Storm Ahead, published in 1953.

Monica Newton married William "Bill" Edwards in November 1933 (two days after her twenty-first birthday) in the face of opposition from both families. Bill was an athletic and charismatic man ten years older than her and a lorry-driver by profession. After living in a variety of places, including Udimore in Sussex; Croft in Leicestershire and Send, near Woking in Surrey, they eventually bought Pitlands Farm (in Thursley, Surrey) at auction in 1947 and renamed it Punch Bowl Farm.

She there wrote over thirty full-length children's novels, including her Punchbowl and Romney March series, numerous short stories and several non-fiction books which chronicled her life on the Surrey farm and its wildlife, especiallythe badger population of the farm's Wild Valley.

Monica Edwards' last new title (Badger Valley) was published in 1976. She spent the next twenty years traveling, reading and studying natural history. Bill Edwards died in October 1990 and Monica in January 1998.

PHOTOS
(Centre) Monica Edwards at Punch Bowl Farm, November 1959
(Clockwise from top left)
Monica, with donkey, camping at Castle Farm 1933.
Camping at Fairlight, 1934.
Hauling ropes at Rye Harbour in 1931.
At Castle Farm 1934.
Acrobatics on Camber Sands 1933.
Riding Pixie, an ex-polo pony, in 1932.
Apple harvest in Udimore 1934.
With lambs at Castle Farm 1931.
All photos are (c) copyright the estate of Monica Edwards.

Words and photos provided by Brian Parks, Monica's biographer.


Picture Added on 25 January 2020.




---