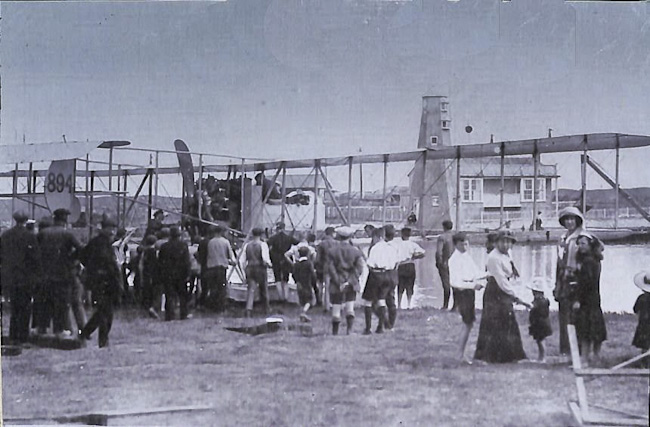 Wight Pusher Seaplane
I have recently been given access to the attached photograph. The owner had no idea what the subject was except that it was taken at Rye Harbour. I have done some research and find that the event took place on 14 August 1914. The number on the rudder identifies it as the correct plane.
The 'plane was a Wight Pusher Seaplane.
The following from a book "Royal Navy Aircraft Serials and Units" by Ray Sturtivant and Gordon Page. " Wight Pusher seaplane 894 force landed Rye Harbour 14.8.14"
The following from a book "The Wight Aircraft" by Michael H Goodall, Gentry Books Limited, 1973. "No. 893 was completed on 20th July and was delivered from Cowes to Warsash on 9th August, where it was joined by No. 894 a few days later. After acceptance trials, the two machines left Calshot by air on 14th August for Grain Air Station. No. 893 arrived safely the same day, but 894 broke down at Rye and a party had to be sent from Cowes to fit a replacement engine. It eventually arrived at Grain on 20th August. The two machines were received by the Commanding Officer, Sqdn. Cmdr. J. W. Seddon, with something less than enthusiasm, ..."
I note that on ryeharbour.net there is a picture of what may well be the same plane. The incident is supposed to have happened in 1912, but a later note suggests it was between 1915 and 1917.
Note the old lighthouse in background.

Picture Added on 06 October 2019.
For more information on this subject see the following websites.
Wight Pusher Seaplane




---