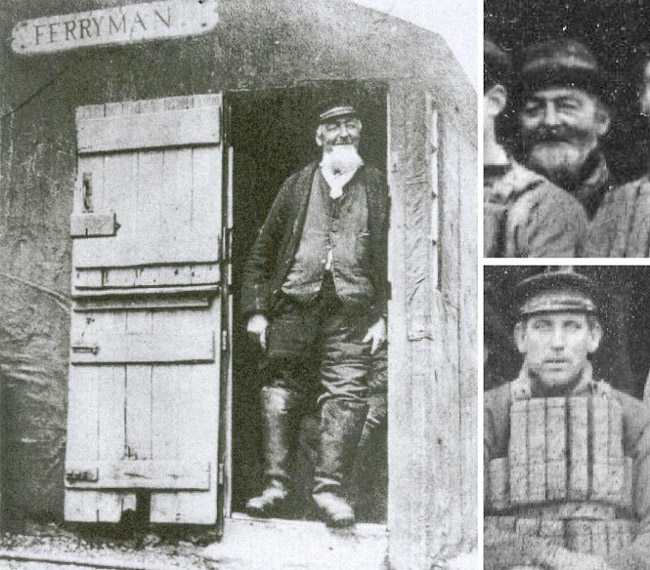 Jim Cutting (1835-1915)
Jim Cutting was the ferryman from late Victorian times probably until his death in 1915, when his eldest son, James 'Chalkie' Cutting took over the job.
Jim was born in Hastings in 1835 to Ann Cutting. His mother married James Waters the following year, and he grew up as 'William James Waters'. Later making a living as a sea-going fisherman.
In 1857 he married Harriet Jones. They had ten children who survived into adulthood. In the 1880's the majority of the family re-located to Rye Harbour, at the same time they changed their surname from 'Waters' to 'Cutting'. (although Jim Cutting was still using the surname 'Waters' up to the 1901 census, only on the 1911 census are they listed as 'James & Harriet Cutting'). Their children definitely living in Rye Harbour were James 'Chalkie', Alfred George, Ellen (Saunders), Richard, Edward H., and William Edward.
Jim and his wife lived at No.1 Black Row Cottages until their deaths in 1915 & 1914. Their eldest son, 'Chalkie' lived next door at No.2 Black Row cottages until at least 1901.
The top-right hand picture is also of Jim Cutting, and the bottom-right is his eldest son 'James 'Chalkie', (both are details from the Rye Harbour Lifeboat picture.)
(courtesy of Rye Museum, part of the 'Band' collection, also thanks to Alan Dickinson for bringing this photo to light)
Picture Added on 10 July 2017.
If you found this interesting, have a look at the following groups of pictures.
Ferry




---