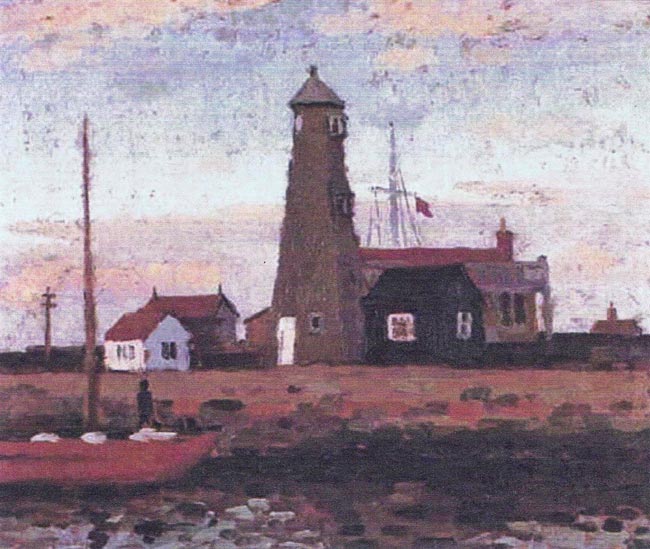 Lighthouse At Rye Harbour
Another painting to go with images numbers picture #392 & picture #393 - Yet another oil painting of the Lighthouse at Rye Harbour by Edward Le Bas. (The date is a guess)

However this one was catalogued as, "Lighthouse At Walberswick" when it was sold at Sotheby's London for £1500 in 1995. It is clearly of Rye Harbour - There is no Lighthouse at Walberswick, nor was there ever a lighthouse there!

Edward Le Bas, 1904-1966, was a fairly well known London artist & collector whose family originated from the Channel Islands. He also had a second home at The Point, Rye Harbour. Le Bas let out this house to the up & coming actor, Patrick Macnee, in the late 1940's & early 1950's. Le Bas sold the house, Harbour Lights, to a school teacher who stayed for 2 years who then sold it to another teacher from South London in about 1955. This family still own it today.
Alan & Turps Haffenden recall that Mr. Le Bas used to take the boys from Rye Harbour for rides in his impressive open-top Lagonda.

Picture Added on 25 May 2015.
For more information on this subject see the following websites.
Harbour of Rye




---