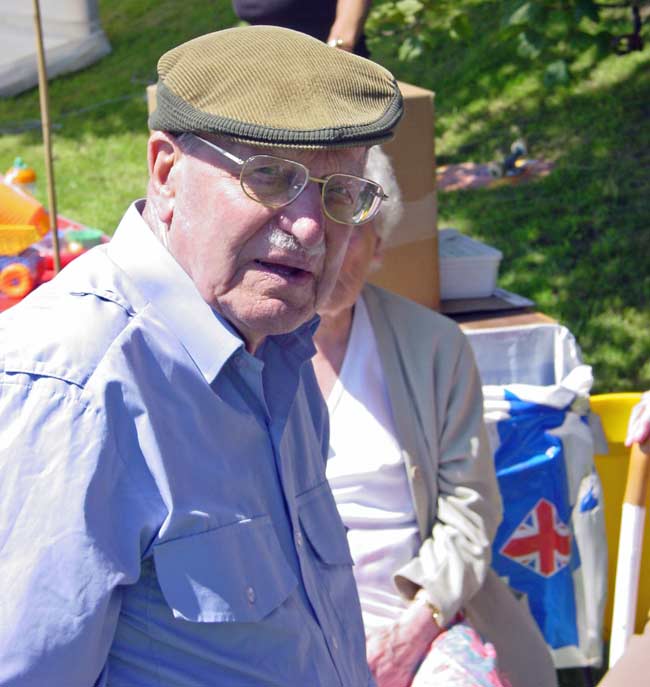 Arthur Berry
Arthur Berry was born in Tottenham in 1915. His father was killed in the 1st World War when Arthur was less than 18 months old. He was fostered by a family who had a small holding and Arthur worked with them fruit picking and looking after the ducks and many other jobs. He stayed with them until he was 9 years old when he went to live with his fathers mother who he was very fond of , but she dropped dead when he was 16 years old. He didn't see his mother who had re-married. Arthur went to the Technical College and left, going to work for the Gas company as a fitter studying on a day release and
2 evenings a week. Arthur played cricket and football and was a keen gymnast. He was a member of the church Lads Brigade. In 1939 at Easter before the outbreak of war he married Kathleen. For the first 2 years of the war he was in a reserved occupation but worked on the ambulances at night in the Blitz of London. He says he took it all in his stride after having gone through his earlier life he was well prepared for anything. Arthur was called up on his 3rd wedding anniversary and went to Matlock in Derbyshire to the transport section of the Royal Army Service Corps leaving Kathleen doing war work as a telephone operator in Tottenham. Arthur was transferred to a new unit, a bulk petrol transport company and they were the only ones doing it. In November he went via the Atlantic avoiding the German submarines to North Africa travelling in a large troop ship. They first landed in Algiers and went as far as Tunis and from there to Italy. He stayed in Italy until after Cassino. Arthur was then posted to another unit dead lined with transport and travelled across the Adriatic and travelled through Vichy France on a motor bike in company with a couple of hundred other wagons finishing up in Belgium and Germany and was de-mobbed in Torquay. The younger ones in the village are going to have to go back to their history books to really follow that journey and I feel inspired to do so as well! If it hadn't been for people like Arthur we would perhaps be in the federation of Germany purged of all non Aryans and those with any handicaps, not many of us would be left.
Arthur returned to the Gas Company and did a course in gas engineering leaving there in 1951. He came to Rye and managed the Queens Hotel in Landgate and then the
Inkerman Arms and he and Kathleen were there for 11 years. They moved to Paines Cottages and worked at the Dungeness power station for 14 years as an operator retiring in 1980. He was Chairman of the village hall management committee and works for Age Concern at the Baptist church. He goes to further Education art classes and gets a lot of pleasure from his painting. Just in case he's not busy enough he is writing his life story on his computer. Arthur enjoys living in Rye Harbour and has lots of friends.

SADLY ARTHUR BERRY PASSED AWAY 21st OCTOBER 05.
THIS ARTICLE WAS ORIGINALLY WRITTEN BY JILL HALPIN AND PUBLISHED IN RYE HARBOUR NEWSLETTER ISSUE 11 VOL 1 IN THE SERIES CHARACTERS OF RYE HARBOUR
Picture Added on 03 March 2007.




Comments
For more information on this subject see the following websites.
Rye Harbour Newsletter




---