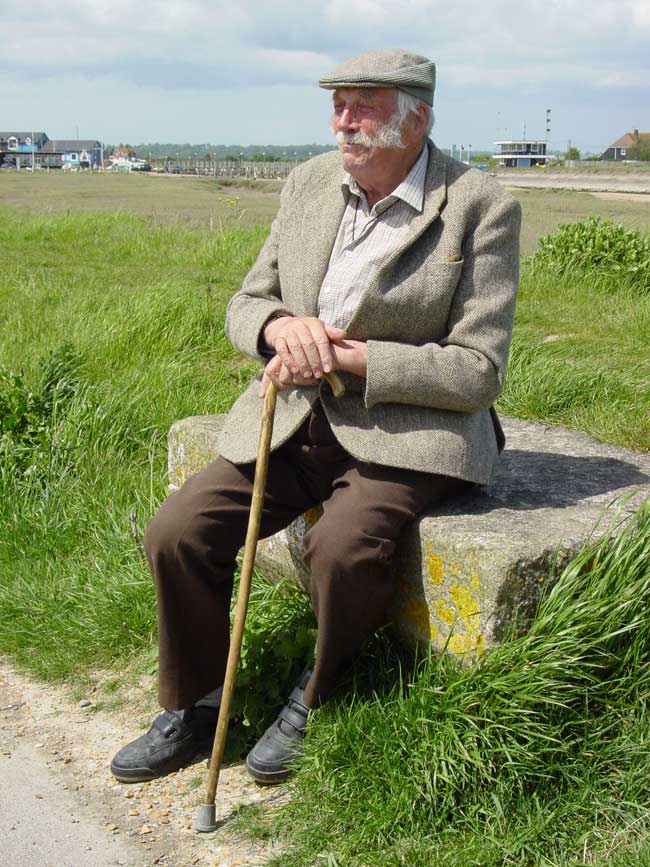 Ted Douglas
Ted was born in Horsted Keynes on the 16th of September 1916 in the middle of the Great War. His father was in the Boer War in South Africa and told his children how he would cook his meals on dried camel dung on the Veldt. Ted took his parents back to Great Missenden where his father was born and they visited the Nags Head and three old chaps sitting by the fire stood up and said "Good God it's Master Harry". He had been a daredevil and his father showed Ted the stairs where they had taken up a donkey and put it in the bed. Boys of Rye Harbour, don't get any ideas. His parents had a farm but it didn't do very well as his father had too many other interests. He was a very good father and his mother was a lovely woman. Ted was the 6th of 7 children and helped with the milking, pulling up weeds and all the work of a farm. They sold the farm and dad got a job with East Sussex Council managing bridge building. Dad said the three brothers were holding too much on mums apron strings so at 17 years old Ted left home. One of the neighbours managed a poultry unit for Lord Beaverbrook at Leatherhead and asked Ted to work for him. Ted made gradual progress through the farming world. Ted met Hilda in 1939 in a dance hall and they married and had one daughter called Betty.
Eventually Lord Beaverbrooks manager asked Ted to be the foreman of the biggest Friesian herd in the world and they won the Butterpat Trophy. Ted went on to manage Lord Hudson's farm. Finally he worked for the son of Sir John Anderson, the inventor of the famous Anderson shelter. Ted retired with Hilda to Rye Harbour and bought the fishing boat the Elsie May. Hilda can be seen in the photograph sunbathing on the boat. The other one shows Ted on the lifeboat at Newhaven which Ted's hard work helped
purchase. Ted is a very popular member of our community and can be seen everyday with his dog Badger walking on the Nature Reserve and bird-watching. He is a keen vegetable gardener and is always friendly and ready to help anyone. He and Hilda were always very hospitable and I have had a number of meals of freshly cooked dabs and vegetables from the garden. Hilda became very frail for a number of years before she died and Ted took very good care of her in his typically good humoured, no fuss way.

SADLY TED DOUGLAS PASSED AWAY NOVEMBER 05.
THIS ARTICLE WAS ORIGINALLY WRITTEN BY JILL HALPIN AND PUBLISHED IN RYE HARBOUR NEWSLETTER ISSUE 12 VOL 1 IN THE SERIES CHARACTERS OF RYE HARBOUR.

Picture Added on 03 March 2007.
For more information on this subject see the following websites.
Rye Harbour Newsletter




---