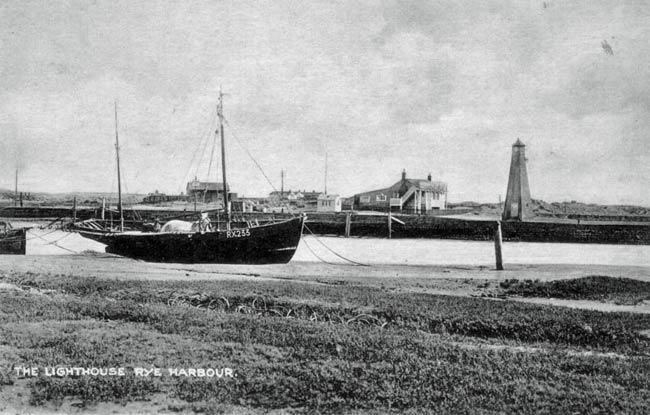 The Lighthouse, a postcard
In 1864 the Harbour Master erected two lights on masts 930 yards apart with the rear one adjacent to his office. These lights were coded to indicate the depth of water in the harbour. By the Nineteenth Century the rear light had been replaced by a 20ft concrete tower which exhibited lights by night and balls and flags by day. This tower was destroyed in 1918 and a short while later was replaced by a hexagonal 40ft tall concrete tower with the old fired lights displayed from two windows. Visible for three miles the light configuration used to indicate the depth of water over the bar into the river was green for a depth of 7ft, red for a depth of 8ft, red and white for a depth of 9ft and white for a depth of 10ft or more. No light was shown when depth was less than 7ft. This light was demolished about 1970 and in 1971 was replaced by an occulting white and green light polycarbonate light on a tripod. The front light was replaced by a quick flashing green light on a square structure on the end of the east pier which is submerged at high spring tides. Today the depth of water over the bar is signalled from the roof of the Harbour Master's office with balls during the day and by the light on the tripod by night.

Picture Added on 01 December 2006.
For more information on this subject see the following websites.
Harbour of Rye




---