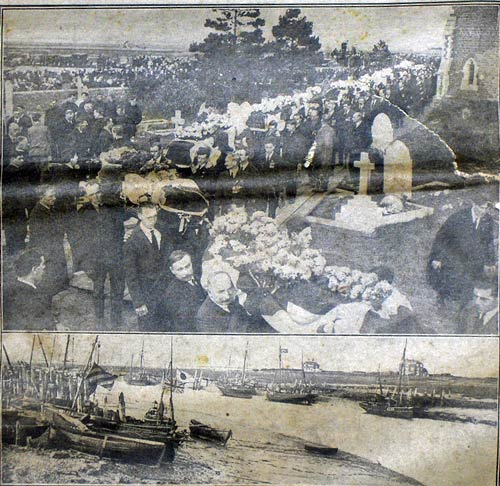 Daily Mirror on November 21st 1928
These are the two pictures which featured on the front page of the Daily Mirror on November 21st 1928.
The headline was "15 LIFEBOAT HEROS BURIED IN ONE GRAVE".
The caption below the pictures was:
The coffins of fifteen of the crew of seventeen lifeboatmen who were drowned when the Rye Harbour Lifeboat capsized after going to the help of a steamer in distress being carried to the one grave in which they were buried together in the village churchyard at Rye Harbour yesterday. The bodies of the other two have not been surrendered by the sea. Round the churchyard stand some of the thousands of mourners who attended the quiet ceremony.

Below are the deserted boats - with their flags at half mast - of the little fishing fleet, which the disaster has robbed of practically all its crews.

Picture Added on 04 August 2006.
If you found this interesting, have a look at the following groups of pictures.
Lifeboat
For more information on this subject see the following websites.
Rye Harbour Lifeboat Station




---