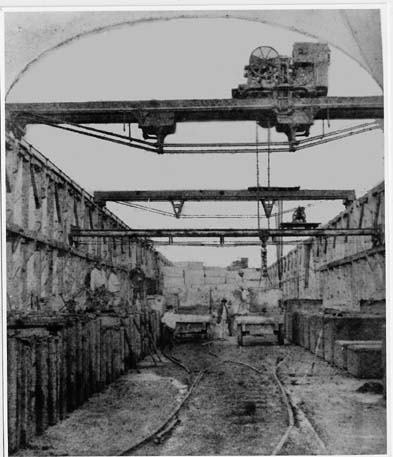 Tram Road Concrete Block Works - Lee & Son
This yard was founded in 1859 by Lee & Son to manufacture concrete blocks up to 8 tons for use in port construction, particularly Dover Harbour. The original of this image is in poor condition and thus the image has been partially cleaned up. It shows a remarkably advanced production operation (note the substantial gantry support frames made of timber, sophisticated overhead crane dollies and shutter storage along the side). It was down at the bottom of Tram Road and was fed by tramway from the shingle dredging activities in what is now the Nature Reserve. The product was shipped out along a tramway to the river, passing by the village shop and over what is now the path into Mary Stanford Green, to a staging dock at the Chain Moorings.

The foundations of the works were later used for several houses at the bottom of Tram Rd. It was also the founding impetus for over 100 years of shingle extraction around the village
Picture Added on 09 April 2006.




Comments


---